Pragya Systems - Holistic Advising
Academic advising requires a strong career context, especially when it comes to first year exploration and skills tracking.
---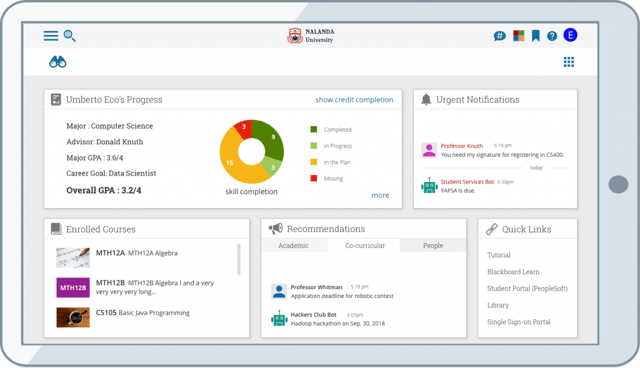 A recent report by Georgetown CEW analyzes the ROI of over 4000 colleges, with the notion that more students are questioning the value of the college degree as it relates to career prospects. A growing number of students today are also older, have jobs, and are burdened with financial and family responsibilities. While students aim to make the connections between academics and career outcomes, colleges are also looking inwards to find ways of bringing 'career purpose' to the student journey.
The above trend has sparked a popular discussion in the advising community, where efforts are being made to break down the walls dividing academic and career advising. This post looks into how students are impacted by the silo problem, its negative impact on retention, and how a holistic advising approach can address the challenges brought about.
Siloed Academic & Career Advising
Academic advisors are armed to help students make course & program decisions from the context of graduation requirements, scheduling and so on. However, students also want to know the career implications of these early decisions but academic advisors do not have access to the required labor market and employer information. A survey conducted by Pragya Systems at the NACADA Annual Conference in 2019 found that 83% of academic advisors want to help students with career-related questions but do not feel equipped to do so. 59% of advisors also say that they are too busy with heavy caseload.
By the time students engage with career services it is often too late and the discussion is focused solely around the job search. Most career advisors also do not have visibility into student learning across academics, co-curricular and off-campus learning. Any insight that career advisors have from employer or alumni input cannot be used to shape the student's academic journey at this point.
Additionally, student engagement with advising remains low across the board – A challenge that is further exacerbated by unfavorable advisor to student ratios and the rise of working learners with limited time at their disposal.
The end result for students an incoherent and disengaged college experience. There is no clear path between academic learning and career outcomes, with students constantly struggling to connect the dots. This has been repeatedly cited by students as a major reason for dropping out of college.
Holistic Advising
A 'holistic' approach to advising can address advising challenges by arming students & advisors with much needed career context & visibility. This includes academic information such as graduation requirements, schedules and real-time progress, and career insight such as career outcomes of programs, occupation outlooks, employer tracks and so on.
Students armed with relevant information can always stay on top of progress & performance, while advisors with visibility into student learning and career insight can provide the personalized guidance expected from them.
Following the examples highlighted in the previous section, there are multiple ways in which holistic and self-serve advising can help students & advisors align learning to careers.
Career focused academic decisions – Choosing majors/minors or programs gains an increased career focus when done within the context of wage outlook, industry growth, and regional opportunities. Advisors armed with this labor market information can do a better job of guiding students through the process. Furthermore, advisors who have early visibility into student goals/interests can better recommend programs or guided pathways.
Employer input – Employers value co-curricular activity and the development of soft skills in addition to academic credentials. To this effect, many employers invest in internships, externships, employer pathways and alumni mentors as mechanisms to develop & recruit higher ed talent. Visibility of such resources is more impactful at the early, exploratory phases when students are looking to commit to a career-focused path. Advisors with visibility into student learning can also track skills acquisition and guide students accordingly.
Consistent, engaging advising – Advising sessions are significantly more impactful when spent discussing student goals & challenges, as opposed to information exchange sessions. If advisors have visibility into student learning and progress, they do not need to be caught up during every meeting and can instead use the allotted time to guide students. Similarly, if students have access to self-serve tools that help gauge their personal progress they can have more meaningful conversations with advisors.
Is your institution evaluating ways to bring a career focus and personalization to advising? Are you limited by the tools currently deployed at your campus? Click here to see how Pragya can help your students & advisors align their learning to careers with a Holistic Advising approach.