Improve outcomes by linking learning to careers
Pragya Career Compass
Pragya Career Compass is an AI-powered, mobile-enabled application that empowers working learners as well as prospective and current college students to make purposeful academic and co-curricular choices with the right career context. It taps into academic and co-curricular programs in colleges, labor market intelligence, occupational training and other employer data to guide students through their academic journey.
Learners can explore
Academic options linked to career pathways
Regional job outlook and skill requirements
Careers personalized to their current skills and goals
Learning pathways personalized to their prior credits / credentials
Internships, Apprenticeships, Co-curricular Opportunities
Professional Certification and job training
Alumni insights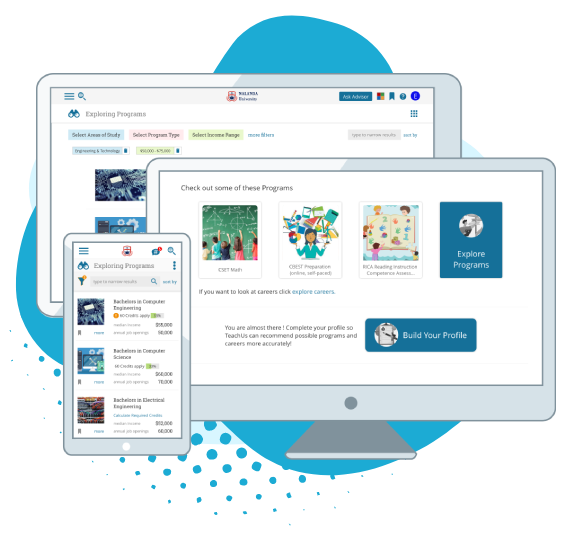 Included with all Pragya solutions
Capture Organic Leads by showcasing ROI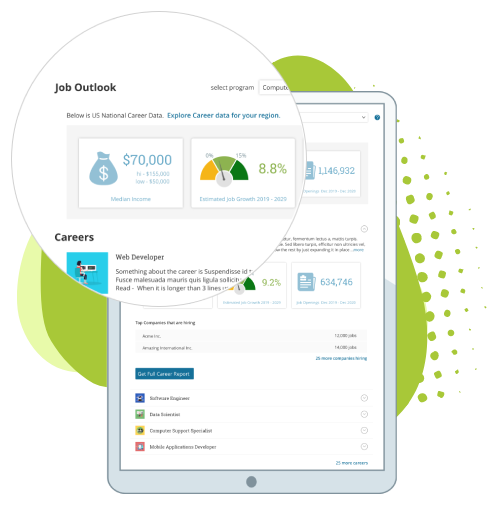 Career ROI Widget
Articulate the ROI of your programs to prospects on your website with a website widget.
Showcase key careers, income and growth outlook
Customized to your institution's programs
Enable exploration of career prospects of individual programs or all programs in one page
Unlimited instances of widget
Up and running in seconds.
Base widget powered by BLS data is free forever; or try the enhanced ROI widget for prospect engagement with data from Burning Glass
Engage Prospects and Improve Enrollment Yield
Pragya Enrollment
Pragya helps colleges capture qualified leads, engage prospects and drive enrollment by articulating the ROI of their programs to prospective students.
Articulate the ROI of your programs to prospects on your website with a website widget.
Pragya Career ROI web widget: Capture qualified leads by showcasing career outlook of programs.
Pragya Career Compass: Engage prospects with a personalized holistic exploration experience of institutional
Pragya Advisor Dashboard: Unlock insights into prospect engagement
Integration with institutional enrollment CRM and workflows.
Start instantly, fully active in two weeks
The ROI widget can be customized and plugged into any institutional website in minutes, and the entire solution can be onboarded within 2 weeks. Start right away with the career ROI web widget
Unlock self-advising to improve retention and career outcomes
Pragya Holistic Advising
Deliver career-focused academic advising to all learners.
Pragya Advising includes:
Pragya Career Compass: Engage students with a personalized, mobile friendly dashboard. Empower learners to track progress towards their target credential & skills development towards a career goal
Pragya Advisor Dashboard: Provide a holistic view of student progress to all advising stakeholders (academic, career, wellness).
Engage and Collaborate with students: Enable a mobile ready student interface to your institution's advising CRM, or use as a lightweight standalone advising solution.
Start instantly, fully active in two weeks
Integrates with existing campus systems like SIS, Degree Audit, LMS and Career Services.