Engage and convert best-fit prospects at every stage of the enrollment funnel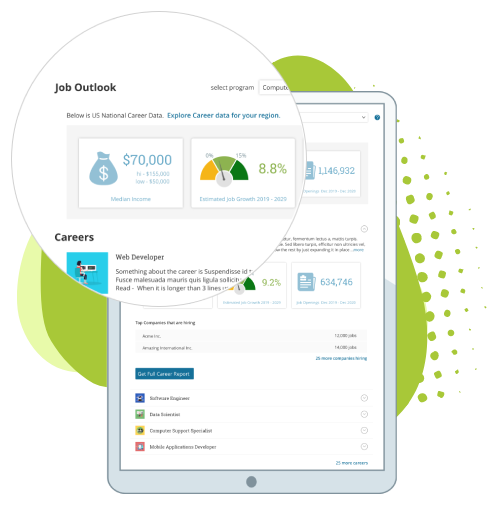 Career ROI Widget
Articulate the ROI of your programs to prospects on your website with a website widget.
Showcase key careers, income and growth outlook
Customized to your institution's programs
Enable exploration of career prospects of individual programs or all programs in one page
Unlimited instances of widget
Up and running on your website in seconds.
Configure for individual programs or a drop down list of all programs
Easily Customize look and feel to match your college website
Capture Organic Leads by showcasing ROI
Pragya Career Compass
Pragya Career Compass is an AI-powered, mobile-enabled application that empowers working learners as well as prospective and current college students to make purposeful academic and co-curricular choices with the right career context. It taps into academic and co-curricular programs in colleges, labor market intelligence, occupational training and other employer data to guide students through their academic journey.
Unlock regional labor market info from Burning Glass (careers, employers, skills)
Help potential students easily navigate program, course and degree requirements
Showcase alumni insights, guided pathways and custom employer tracks
Customize unique campaign URLs and call-to-actions (CTAs) to engage with enrollment advisors
Integrate with your enrollment CRM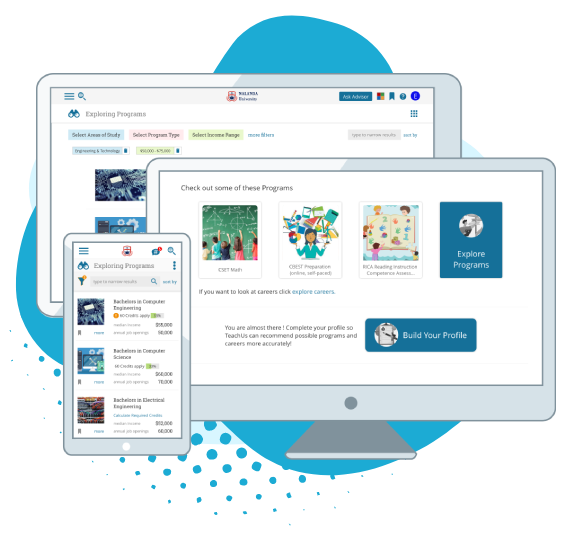 Included with all Pragya solutions
Deep Insights into prospects
Deep Insights
Gain deep insights about prospects to drive enrollment yield and ease transition to FY Advising.
Capture individual prospect interests, goals and activity
Capture analytics on popular programs and guided pathways
Measure campaign and CTA success in real-time
Gain aggregate insights on program and career interest
Integrate with CRMs to inform academic advising and ease FY transition
Use the insights within your Pragya Enrollment Leader dashboard, or integrate with your CRM